Our popular breakfast, aftercare and holiday club setting is based in the grounds of St Matthew's CE Primary School in Stretford. The club offers affordable, high quality childcare where parents, children and staff work in partnership. Our team of experienced and highly skilled professionals put the needs of children at the heart of everything they do and our robust inductions and external training mean that staff are continually developing their skills.
"Children arrive at this club happy to see their friends and the staff. Friendly staff welcome children into the club enthusiastically. This makes children feel settled and safe."

Ofsted, May 2023
Following an inspection by the local authority, the provision was awarded the Trafford Healthy Club Award, a kitemark for promoting healthy snacks and physical activity. The setting also has a 5 star food hygiene rating. During our last Ofsted inspection in May 2023, the provision was graded as MET in all areas with particular praise directed at the staff and children.
"Children benefit a lot from using the outdoor space at the club. Children demonstrate real enthusiasm while playing team games with their friends and staff."

Ofsted, May 2023
The club is designed to help parents of children aged 3-11 by supplying a range of fun and games including multi-sports, themed creative crafts, content appropriate computer games and outdoor play. We provide lots to do in safe and happy spaces, enabling children to relax, socialise and develop new interests. In addition, we support children's development by monitoring where appropriate in line with the EYFS and National Curriculum. We actively promote British Values and respect, tolerance, democracy, inclusiveness and the rule of law underpin our ethos within the club.
"Parents say that staff go above and beyond to make sure their child settles and has the support they need."

Ofsted, May 2023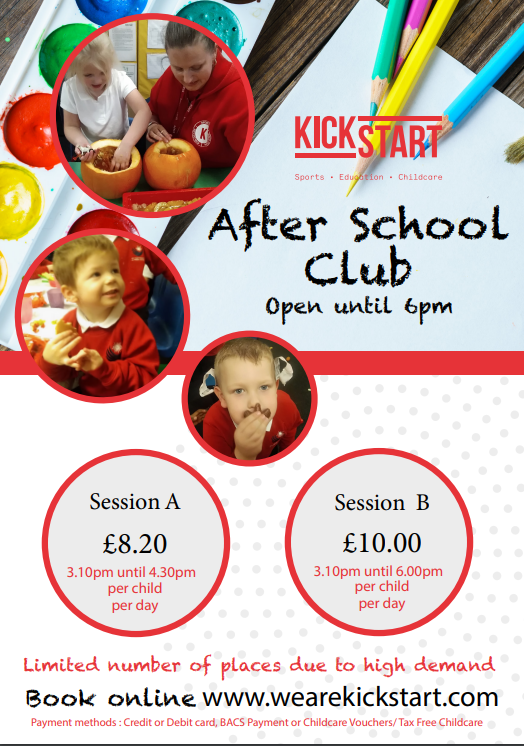 Kickstart Breakfast Club is open from 7.30am at a cost of £4.00 per session.
Kickstart After School Club operates during term-time between 3.10pm – 6.00pm and offers two sessions for parents or carers to book:
Session A – 3.10pm – 4.30pm – £8.20 per child
Session B – 3.10pm – 6.00pm – £10.00 per child
We also support families by offering a 20% discount for siblings on Session B bookings in After School Club.
Kickstart Holiday Club opens all year around in the school holidays (except Bank Holidays and Christmas) between 8am – 6pm and we offer two sessions for parents or carers to book:
8am – 3pm – £20 per child per day
8am – 6pm – £25 per child per day
Breakfast and light teatime snack (8am-6pm) is included. Parents/carers need to provide a packed lunch.
Payment can be made by Government TFC Scheme, BACS transfer, credit or debit card, PayPal or childcare vouchers.
Parents and Carers can register their children via our online booking system. For more information and details on how to register your child, please contact Kickstart on 0800 023 5752 or by e-mail info@wearekickstart.com.
Kickstart childcare aim to provide a safe, happy and fun environment where your children will want to come back again and again.
www.facebook.com/kickstartmanchester