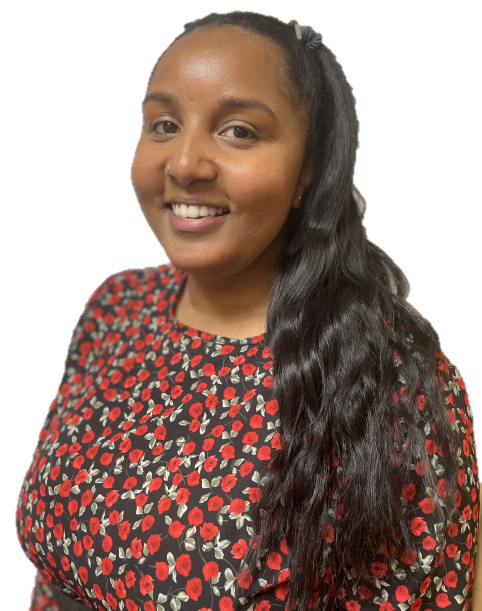 Miss Walapu- Class Teacher
I am so delighted to be joining the team at St Matthew's this summer term, and even more excited I'll be working in Early Years. Early Years is my happy place, and it's such a privilege sharing this experience with children as they start their school journey. I am looking forward to all the fun, challenges and learning we will do together. It is such a joy to continue working in this nurturing and magical environment where our imaginations and love for learning will thrive.
A few things about me! My favourite thing to do outside of school is spend time with family and friends, and I love being outdoors whether this being going for walks or trying new food spots (I am a massive foodie!). I relax by tucking into a good book and am excited to share my love for reading and lots of good books with you.
It is a real privilege to work in such a friendly and community-spirited place, and be part of such a wonderful school family. One of my favourite things at St Matthew's is the wonderful outdoor space we are blessed with, I love to take learning outdoors whatever the weather, and can't wait to learn together and see you flourish throughout our time together!
Mrs Bickmore – Teaching Assistant
I am very excited to be working across our two EYFS classes, Meadows and Woodland. I love working with our youngest children at school, and helping them as they began their journey at St Matthews. I am looking forward to getting to know our new children, and I can't wait to have fun with both classes as the children learn and develop their individual personalities, knowledge and skills.
I have enjoyed being a part of the St Matthew's family for eight years now, and I feel very lucky to work with our amazing children and staff.
Outside of school, I enjoy growing my own vegetables, painting, taking part in Joe Wicks workouts, learning Welsh and spending time with my family and two cats, Frida and Jessie.
I can't wait to work with you all this year!
Mrs Kaur-Swalley – Teaching Assistant
It has been a privilege to have worked at St Matthew's for thirteen years. During this time, I have worked alongside our fabulous teachers and support staff and so many of our wonderful and inspiring pupils. This year, I am looking forward to working across our two EYFS classes, Meadows and Woodland, and watching the children as they grow and flourish at their beginning of their school journey.
I have two children, aged 21 and 15, and as a family we enjoy spending time together and going on long walks.
Outside of school, I also like swimming, cooking and travelling.
I am really looking forward to working with you all this year, and can't wait for all the fun we are going to have as we learn together!
Class governor friends
Each class has a 'Class governor friend'. Your class governor friend is a member of the governing body, who will remain linked to your class throughout their time as a governor, moving through the school with you. They are looking forward to getting to know you all over the coming year!
Emma Entwistle
My name is Emma Entwistle and I was originally a parent governor when my three children attended St Matthew's. When they moved to high school, I became a foundation governor so that I could continue to support school. I am a teacher in a single-entry faith school in Salford and I am passionate about helping young people achieve their potential through education and ensuring children have the best opportunities to succeed in their lives.
When I became a governor at St Matthew's I was keen to play a role in ensuring that all the children received the best possible education. The school has gone from strength to strength over the years and has worked to ensure that all the children can be the best they can be. School prepares each child to be able to make choices leading to happy, successful and fulfilling lives. In my role as a school governor, I feel privileged to have had the opportunity to contribute to the life of St Matthew's.
Alanna Bennett
My name is Alanna Bennett, and I have recently become a parent governor at St Matthew's. My daughter attends the school and I've been thrilled with the way the staff have nurtured and developed her. I have previously worked in the St Matthew's office, and as a Midday Assistant, and I continue to volunteer to support some of the children with their reading each week. Being a part of the school community has been such a fulfilling experience, and as a governor I hope to help to support that community in a more strategic way.
Before having my daughter, I worked for many years at a Pharmaceutical company. I am now pursuing a change of direction, and am undertaking a School Business Manager's diploma. This course will give me a deeper insight into the running of a school, which will help me to be a more effective governor.
In my spare time, I am a member of Manchester Glee Choir. I am also an enthusiastic baker, and a less enthusiastic swimmer!
Key Documents